Finished Basement Remodeling Company in Webster, Fairport, Pittsford, Rochester, Batavia, New York
Enhance Your Home Investment Through Basement Finishing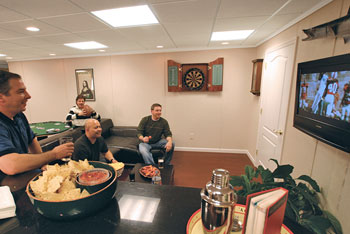 Basements don't have to be dungeons of mold and moisture that you avoid at any cost.
Your basement can be beautifully transformed into almost anything you can imagine. Whether you'd like a custom-made home office, personal gym, a warm & inviting family room, a state-of-the-art home theater, basement bar, we have the skills and products that can make it happen.
Finishing your basement with us will help you:
Increase the market value of your home
Develop more living space and square footage
Make your home more energy efficient
Receive protection from rot, mold and fire
The possibilities are limitless and can save you 50% or more on the cost of room additions. The walls are already built, the utilities are already there and no modifications are necessary on the rest of your home.
Let us provide you a free, detailed basement finishing and remodeling estimate and consultation. We share goals with homeowners of Rochester, Ithaca, Elmira, and Auburn, New York that have entrusted us with their basement remodeling.
Our service area includes Greater Rochester, Monroe, Wayne, Livingston, Ontario, Yates, Seneca, and Steuben Counties. For more information about our service area, please visit our service area page.
Take a look at our gallery of finished basements to get some inspiration and ideas. Fitch Total Basement Finishing will provide you with financing as well as design options. You can also read our basement finishing guide.